Ayutthaya National Park
The ancient capital of Siam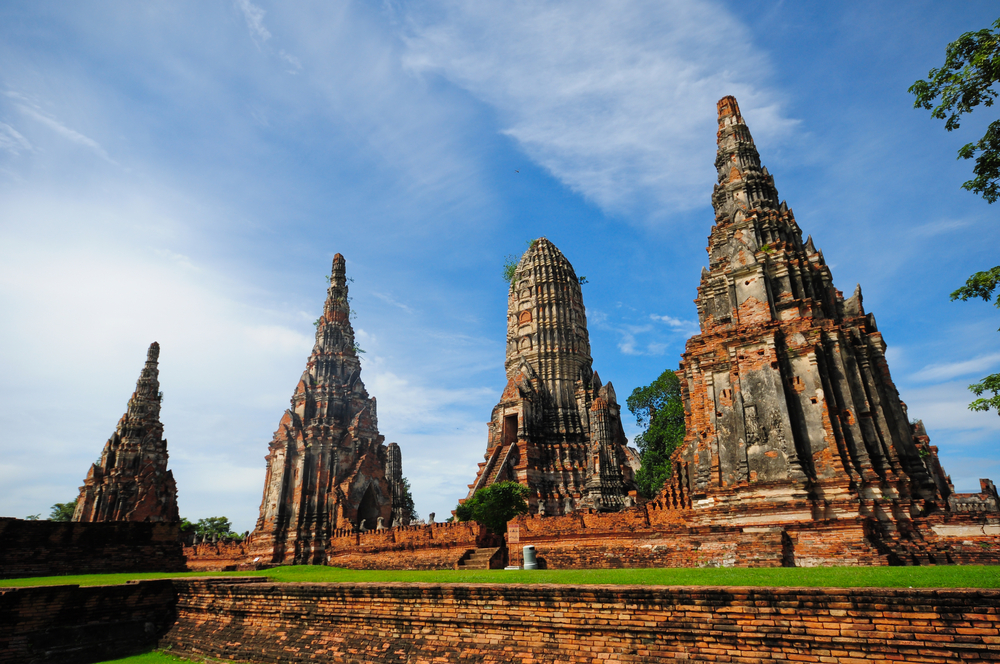 Country: Thailand | Type: Cultural | Theme: Archaeological
Introduction to Ayutthaya Historical Park
North of Bangkok is the Ayutthaya Historical Park on the banks of the Chao Phraya River. It is the site of the ruins of Ayutthaya, the capital city of the Kingdom of Ayutthaya which was founded in 1350 and largely destroyed by the Burmese army in 1767. It was established as an island city surrounded by a fortified wall and criss-crossed with a network of canals. It was described as one of the wealthiest and most opulent cities in the East and its past spendours are apparent from what remains of the wats, towers and monasteries today. At its peak it had a million population, three major palaces and over 400 temples which were lavishly decorated. Major monuments include the royal temple, several wats and temple complexes in various states of ruin and one of the largest bronze Buddha images in Thailand. There are three museums which preserve some of the most important historical finds from this ancient city.
The former Siamese kingdom of Ayutthaya existed from 1351-1767. It is Thailand's best known historical site. During its 400 years of existence this capital city grew in power and influence. According to foreign accounts, the Ayutthaya Kingdom was officially known as 'Siam' but many sources also said Ayutthaya people called themselves the Kingdom of the Thais. Conflicts with neighboring areas were ongoing, but Ayutthaya thrived and expanded with each success. As it was an important trading centre, many luxury goods were brought into the city and were used in the building of fine temples, palaces and wats. Its devout following of the Buddhist faith resulted in some wonderful monuments in what must have been a lavish and opulent city. In 1767 Burmese invaders sacked the original city and the surviving ruins are now preserved in the Ayutthaya historical park. The architectural remains are quite wonderful to visit and explore in detail. Some of the buildings originate from the 14th century, including the Wat Mahathat, which dates back to 1374. This extensive temple complex includes an impressive prang, the round finger-like tower, which was originally twice its present height.
The Royal Temple, Wat Phra Sri Sanphet once stood in the compound of the king's palace, which has now vanished. This is one of Ayutthaya's most famous ruins and is distinguished by the row of three restored chedis which are normally constructed over the ashes of royalty, the relics of a Buddha or sacred texts. The more modern building known as the Viharn Phra Mongkol Bopit enshrines one of the largest bronze Buddhas in Thailand and is a must-see for visitors.
The best preserved temple is Wat Na Phra Mane which has a 'bot', the most sacred area of the wat, which enshrines a bronze Buddha in royal attire.
Wat Phra Ram is easily identified by its large central prang. It was rebuilt in 1369 by King Rameseum, on the cremation site of his father King U Thong, the first king of Ayutthaya.
Wat Rachaburana is a fine temple in a good state of preservation, especially when you consider it was built almost 600 years ago, in 1424. It was erected by King Borommaracha II on the cremation site of his two elder brothers who killed each other in a struggle for the throne. When the crypt beneath the prang was excavated in 1957, traces of mural paintings were discovered, along with a collection of gold objects and jewellery. These can now be seen at the Chao Sam Phraya National Museum.
Two other museums in Ayutthaya are the Historical Study Centre, a modern museum with reconstructions of Ayutthaya at its peak, and Chandra Kasem Palace, a reconstruction of a historic building commissioned by King Rama IV in the 19th century.
In 1351 Ayutthaya was founded by King U Thong on the site of the earlier kingdom of Lavo, which it absorbed. The island on the Chao Phraya River was the former seaport known as Ayothaya. The new capital city was named Ayutthaya which translates 'City of Kings'. Due to its location on the Chao Phraya River, about 50 miles (80km) north of the city of Bangkok, it became a major centre of trade. During the 16th century it became known as one of the largest and wealthiest cities to be found in the East. At its zenith, the court of King Narai from 1656-1688 had strong links with King Louis XIV of France. Ayutthaya was compared in size and in wealth to that of 17th century Paris. Its close counterparts were the Lanna Kingdom at Chiang Mai, and the Yunnana and Shan Sri provinces in China.
During the 15th century Ayutthaya's rulers tried in vain to conquer parts of the Malay peninsula. It was a turbulent time with constant warfare between Burma, Thailand and Malacca on the Malay peninsula. In 1569 the city fell to the Burmese Kingdom of Taungoo and the royal princes and officials were captured and taken back to Taungoo. When Prince Naret (who became King Naresuan) returned to Ayutthaya he gathered troops and eventually defeated the Burmese at a famous elephant battle, killing Taungoo's heir apparent. As Ayutthaya prospered again and expanded towards the northern regions of Sukhothai and Lanna, foreign trade brought luxury items and weapons to the city.
Ayutthaya's main religion was Buddhism which is reflected in the many wats, temples and buddhas which were built at that time. In the mid 18th century, Ayutthaya enjoyed its 'Golden Era' when arts and literature flourished. The last monarch of Ayutthaya was King Ekathat, officially known as Prince Anurakmontree.
In 1765 the Thai territory was again invaded by Burmese armies who sacked and burnt the city. Ayutthaya's art treasures, its libraries of literature and the archives housing its historic records were almost totally destroyed. All that remains of the Ayutthaya Kingdom today are some remarkable and impressive ruins which are listed by UNESCO as World Heritage Sites within the Ayutthaya Historic Park. The modern city of Ayutthaya was refounded nearby.
By Car: Ayutthaya is just 50 miles (80km) north of Bangkok and is easy to get to by road. Once you are out of the city of Bangkok, follow Route 31, a toll road, for approximately 36km. Exit towards Route 9/Kanchanaphisek then follow Route 347 for approximately 23km. Ayutthaya is clearly signposted from Route 347.
By Train: Trains regularly depart throughout the day from Hua Lampong Station to Ayutthaya. The trip takes 1 ½ hours and cost from $1.15 for a second class ticket with air-conditioning.
By Bus: Buses leave Bangkok's Northern Bus Terminal every 15 minutes. The trip takes 1 ½ hours and costs around $1.40
By Boat: This is a very popular way to visit Ayutthaya and can be booked from most Bangkok hotels. Grand Pearl Cruises offer day trips including lunch onboard with time to explore Ayutthaya before sailing back to Bangkok. Day trips cost around $51.
Key Facts
Inscribed:1991
Nearest City:Ayutthaya
Province:Ayutthaya
Coordinates: Lat: 14.3522, Long: 100.5766
Accessibility:Easy
Services:Extensive
Highlights
The Royal Temple, Wat Phra Sri Sanphet
Viharn Phra Mongkol Bopit, with its large bronze Buddha
Wat Phra Ram
Wat Na Phra Mane, Ayutthaya's best preserved temple
Chandra Kasem Palace, reconstructed by King Rama IV