Dinosaur Provincial Park
The age of the dinosaurs comes to vivid life in this barren landscape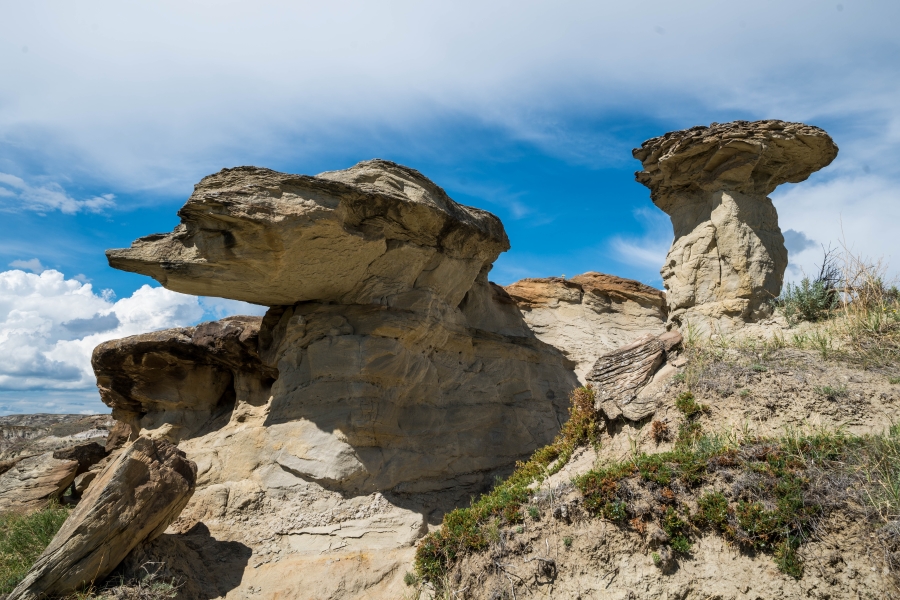 Country: Canada | Type: Natural | Theme: Geology, Paleontology
Introduction to Dinosaur Provincial Park
Dinosaur Provincial Park, located in Alberta, contains some of the most important fossil discoveries from the Age of Dinosaurs. Fossils discovered here include some 35 species, some of which date back as far as 75 million years. More than 150 complete skeletons from this area now are harbored in over 30 major museums. The skeletons obtained in Dinosaur Provincial Park are unmatched anywhere in the world.
This area is the warmest and driest in Alberta and streams are sporadic. The park features "badlands," creating a stark but beautiful landscape. However, 75 million years ago, the area was subtropical, swampy and lush. Dinosaurs made their homes here and these conditions made for the perfect preservation of their fossils.
A great way to start off your visit to Dinosaur Provincial Park is by stopping by the Family Theatre Program. The program takes place in Sternberg-Anderson Theatre, which is located inside the visitor center. It features a host who talks about some of the most interesting facts about the park. The program involves much audience participation and is especially fun for children.
Another interesting attraction is the Fossil Safari. With this program, visitors take a walk to a site where they will learn about the technique and process of identifying fossils. No digging is involved; however, visitors will have the opportunity to discover fossils for themselves.
The Explorer's Bus Tour offers visitors the opportunity to tour the badlands. This tour allows visitors to see the unique and beautiful landscape of the Park's Natural Preserve. In addition, there are several opportunities on this tour for visitors to check out the scenery on their own by foot.
Visitors can also hike through the park by taking one of two trails. The first is the Centrosaurus Quarry Hike. This allows visitors to make the journey to a former dig site by journeying through steambeds and ridges. This dig site contains the bones of hundreds of dinosaurs. Visitors will investigate these bones and discuss with their guide the possibilities for their mass death. The second hike is the Great Badlands Hike, a half-day journey to some of the more rugged areas of the park. Visitors will have the opportunity to not only learn about fossil hunting, but also to learn about how modern day plant and animal life have adapted to this environment.
Lengthy or even multi-day excavations are also an option for the most enthusiastic adventurers. Excavations are one, two, or three days. These programs offer visitors the unique option of participating in an authentic fossil dig. Visitors will learn about excavation techniques and work with a team of paleontologists to uncover fossils. This is a unique experience, and visitors will actually be contributing to the research within the park.
The landscape of Dinosaur Provincial Park was quite different 75 million years ago. The area was subtropical and life here thrived, including dinosaurs. Huge rivers flowed through the area, making mud and sand deposits that today make up the valley walls. About 15,000 years ago, the area experience an ice age. Under a 600 meter thick layer of ice, the area was mostly flat. As the glaciers began to melt, the water carved channels and shaped the badlands.
In 1884, the first fossil was discovered in the area by Joseph B. Tyrell. Four years later, Thomas Weston was sent to search for fossils. He found the greatest number of fossils at Dead Lodge Canyon, now part of Dinosaur Provincial Park. From 1910 to 1917, what is known as the "Great Canadian Dinosaur Rush" began. In 1955, Dinosaur Provincial Park is officially established. Between the years of 1979 and 1991, a total of 23,347 fossils were collected in the area, 300 of which were dinosaur fossils. In 1980, the park was declared a World Heritage Site because of its fossil deposits, badlands, and cottonwood trees.
By air:
The nearest international airports are Calgary International Airport and Edmonton International Airport. Regional airports include Edmonton City Centre, Fort Chipewyan, High Level, Lloyminister, Medicine Hat, Lethbridge, and Rainbow Lake.
By car:
From Calgary, take AB-201 heading south for approximately 9 kilometers. Then take the exit toward 16 Ave heading northeast. At the fork, you will merge onto 16 Ave NE/Trans-Canada Hwy/AB-1E, following Trans-Canada Hwy/AB-1 for 165 km. You will then turn left onto Veteran Memorial Hwy and continue for 6 miles. Then, make a right onto AB-544 E, continuing for 22 km. When you come to Township Road 204, take a slight left onto Range Road 125.
From Edmonton, take AB-2 heading south for 250 kilometers. Then, take the exit toward Alberta 201 east. From there, follow the above directions from Calgary.
From Lethbridge, take Crownsnest Highway and follow it for approximately 52 kilometers. Then, turn left onto Veteran Memorial Highway and continue for 106 kilometers. Make a right when you come to AB-544. After 21 kilometers, turn right onto Township Road 204. You will then make a slight left onto Range Road and continue for 3.1 kilometers. From there, continue onto Township Road 210A.
Key Facts
Inscribed: 1979
Nearest City: Calgary
Province: Alberta
Coordinates: Lat: 50.7677, Long: -111.4922
Accessibility: Moderate
Services: Basic
Highlights
Fossils from 35 species discovered here
Some fossils are as old as 75 million years
The badlands are a unique and beautiful landscape
Opportunities to explore the badlands are available
Excavation of fossils is possible for visitors