Hoi An Ancient Town
Exceptionally well-preserved ancient trading port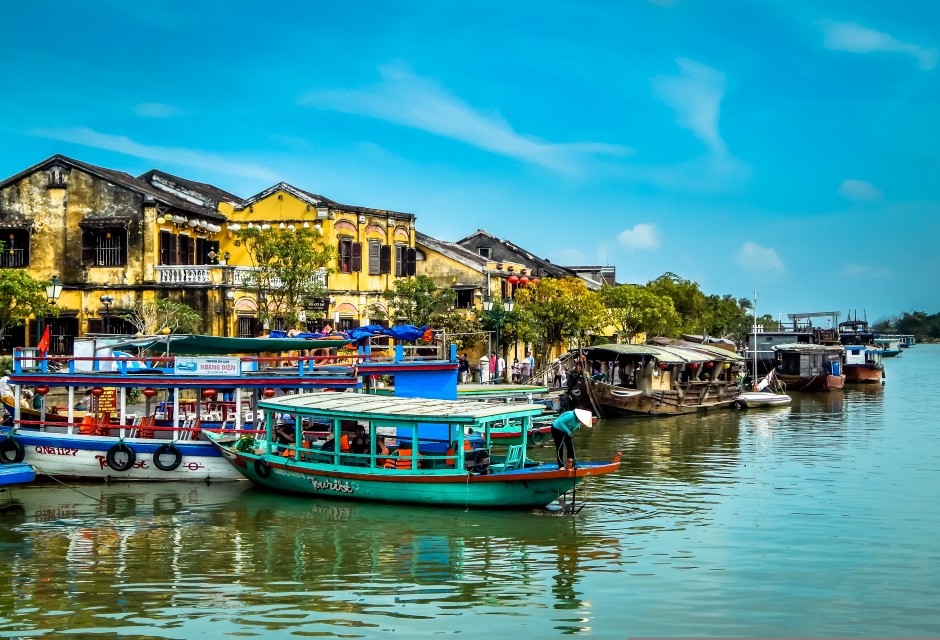 Country: Vietnam | Type: Cultural | Theme: Maritime, Urban Landscape
Introduction to Hoi An Ancient Town
Hoi An is an exceptionally well-preserved ancient town dating back to the 15th century. It is located in central Vietnam at the mouth of the Thu Bon River on the South China Sea. As an ancient trading port its buildings and street plan reflect the influences that combined to shape this unique heritage site. It was an important trading post from the 15th to 19th centuries especially for Chinese goods and spices. This is one of the most visited sights in Vietnam and is particularly popular with backpackers and those with an interest in Vietnam's culture and history. It consists of many restored houses, shops and public buildings and is an active living community. Some notable historic monuments include the Japanese Covered Bridge, built in the early 1600's, the Central Market, the Riverside Museum on Nguyen Hue Street and the House of Handicrafts. Silk is still the most widely traded commodity here along with spices and handicrafts.
A visit to this ancient port city should be on every tourist's must-see list. The old town has been largely preserved and restored. As well as having many restored buildings which date back to the 15th century, its streets remain traffic-free and the Vietnamese culture has largely been preserved. It is a popular place for buying silk, cheap souvenirs, hand-tailored suits and other crafts which are sold on the local markets.
Some of the historic sights include the Japanese Covered Bridge, dating back to the early 17th century. This iconic building is the symbol of Hoi An. Inside the bridge there is a small temple to Tran Vo Bac De, the god of the north who controls the weather, obviously of importance in this former maritime community. The Quan Cong Temple was built in 1653 to honour the General of the same name for his loyalty and bravery. The Museum of Trade Ceramics is set in a historic house which is of great historical significance. It houses an interesting collection of pottery, ceramics and photographs and covers 2000 years of local history. The Phun Hung House has been in the same family since it was built in 1780. This traditional two-storey house has interesting Chinese and Japanese elements. The Tan Ky House has Chinese poems which hang from the roof on mother-of-pearl. There is also beautiful mosaic inlay work in the small rooms which are still home to the Tan family. The Tran Family Home and Chapel depicts the life of a wealthy family in the early 19th century. It was built by Emperor Gia Long's Ambassador to China and the home is full of Chinese artifacts and gifts.
The town also has a number of Assembly rooms which were built for ex-pat residents to meet. Some of the large ones include the Cantonese Assembly Hall which was built in 1885 and is elaborately decorated with statues from Chinese operas; there is even a ceramic dragon in the courtyard fountain. The beautiful Fukian Assembly Hall was built by traders from the Fukian province and is full of animal sculptures including a unicorn, dragon, turtles and fish. The Chinese All-Community Meeting Hall is equally elaborate in style and incorporates french architecture too.
As well as seeing the historic buildings, visitors should also browse the Central Market for low-priced silks and exotic foodstuffs. The House of Hoi is fascinating as you can see fat silkworms and a 17th century silk loom. Beautiful silk is made here in rich colours. Visitors may also want to visit Hoi An during the Full Moon Festival when shop owners hang lighted lanterns outside to decorate their storefronts and there is also a procession of decoarated floats.
Hoi An was a major international port from the 15th to the 19th centuries. At this time there were many Chinese, Indian, Dutch and Japanese settlers in the port community. This cosmopolitan mixture, along with the local Vietnamese culture, produced a rich and diverse community whose foreign influences can still be discerned today. Hoi An was made a UNESCO World Heritage Site in 1999 to preserve its beautifully restored buildings, shops and houses.
As early as the first century AD, Hoi An had the largest harbour in Southeast Asia. During the 16th to 18th centuries, the port's heyday, the city was the most important trading centre in Vietnam, especially for Chinese goods. It traded spices, silk, porcelain, pepper and medicinal plants. Eventually the river filled with silt and trading moved downstream to Da Nang, about 15 miles away.
One of the oldest buildings is the Lai Vien Kieu which means 'Pagoda in Japan'. It was built in the early 1600s, probably by the Hoi An Japanese community and it has been renovated several times since. The Riverside Museum of History and Culture is also housed in one of the oldest building which dates back to 1653. It now houses a collection of ancient ceramics, photographs of local architecture and artifacts which span 2000 years of history.
The town today continues to thrive as a tourist attraction and market. Around 88,000 people live and work here, maintaining its ancient traditions as they sell locally made silk and crafts. The Old Town has retained its winding lanes and Chinese-style shop-houses. Altogether there are 844 buildings which have been preserved and restoration continues.
Getting Here by Road:
Hoi An has no airport or train station. The only way to get here is by road. Buses run frequently to Hoi An from most nearby cities, including Da Nang which is about 15 miles north of Hoi An. You can also hire a taxi from Da Nang, which has both an airport and a train station.
Getting Here by Air:
The nearest airport is at Da Nang which is about 15 miles north of Hoi An. There are daily flights from Hanoi, Ho Chi Minh City and most other major Vietnamese cities. A taxi or bus is the best way to complete the journey.
Getting Here by Train:
The nearest railway station is also at Da Nang. From there take a taxi or bus to reach Hoi An, 15 miles away.
Key Facts
Inscribed:1999
Nearest City:Hoi An
Province:Quang Nam
Coordinates: Lat: 15.8833, Long: 108.3333
Accessibility:Easy
Services:Extensive
Highlights
Japanese Covered Bridge
Quan Cong Temple
Museum of Trade Ceramics
Phun Hung House
Tran Family Home and Chapel
Chinese All-Community Meeting Hall
Find a Tour
Like to visit? Fill out this form and reliable local hospitality companies will contact you to discuss your ideas.